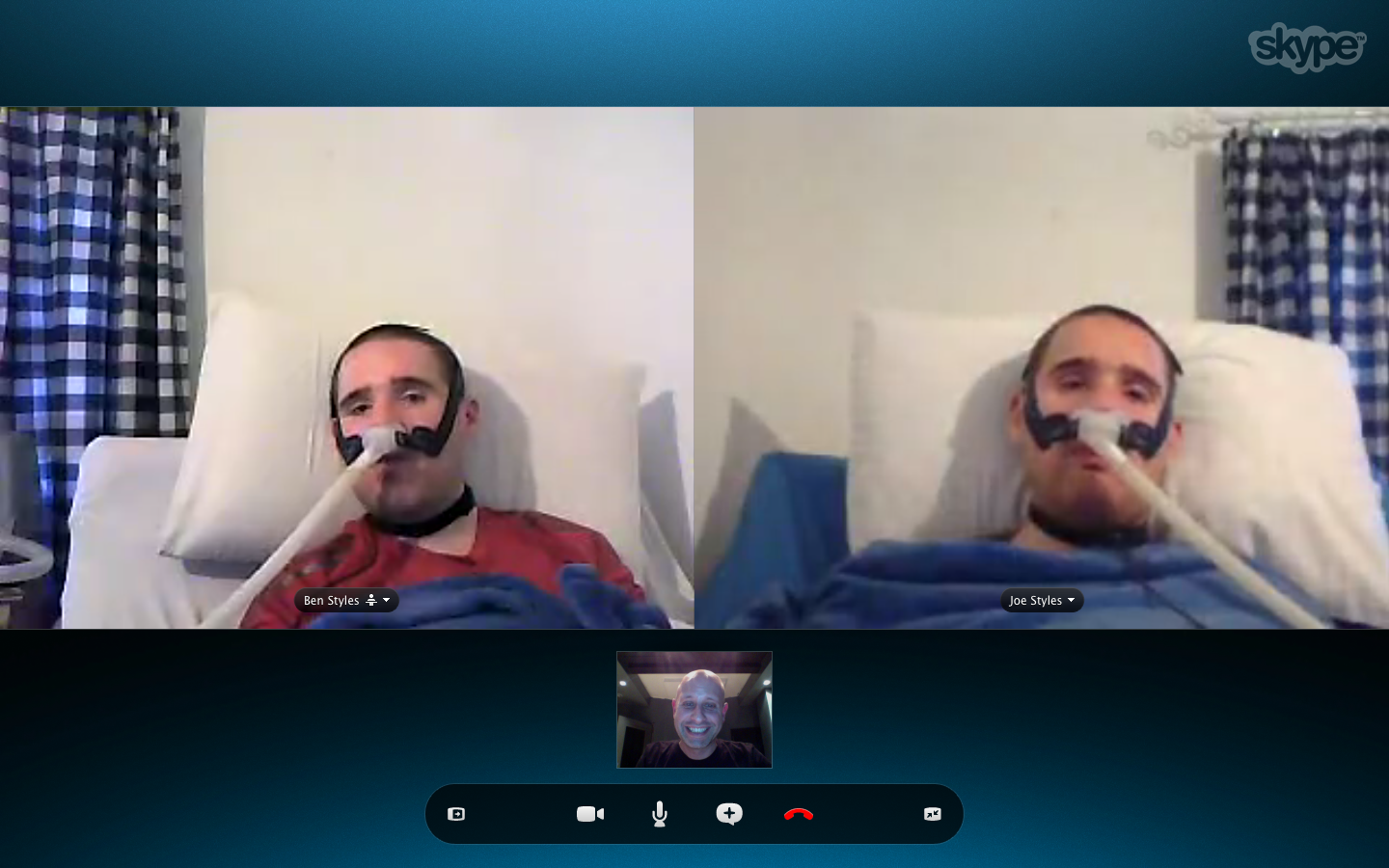 It's been three weeks since I've returned from my trip to visit the Lads and I've been a very busy bee. Right after returning from England, I got a call from a buddy of mine who just had lunch with an old friend earlier that day. They were chatting about the friend's son and it came up that the 25yr old son also has Duchenne Muscular Dystrophy (DMD). I've been emailing with the father and he's now following the blog and the progress on the mics (Hi Kurt!). I'm hoping to meet up with them next time I'm out in the Boston area. More and more people who could use these microphones will start "appearing" now that we're working on this project. I believe that when you focus your energies on something like this project, it pulls in similar energy from every direction.
Ben & Joe called me the other day via Skype and we chatted for about 25 minutes, using their throat mics. Diane popped in from the side of the screen for a second too, it was good to see her. We had been messaging via Facebook since the trip, but this was the first time we tried Skyping using their mics. When the call came in, I got very excited. I was mixing some tracks in the studio and dropped what I was doing because I knew it was a bit of a complicated setup to get them both online.
We had some connection issues at first and the Lads found some interesting (read: annoying) issues that Skype has with connecting/disconnecting an audio source (you have to re-set it each time in the Preferences). Once we got squared away, I got to talk to Ben mostly because his throat mic is sounding better than Joe's. I knew that when I went out there, one of the mics was from a better "batch" from my manufacturer. Unforunately, they were the only two I had left and because I had run into supply problems from my manufacturer. So we made due. The main issue with Joe's mic is that it's more bass-heavy than Ben's and it's clipping for some reason. I've already got replacement mics for them here and hopefully will have new processors (the Thumper-LE and Thumper-TC) for them soon as well.

For the past couple of months, I've been working on the negotiations and paperwork to secure a relatively large joint-grant from CureDuchenne and the Abraham Fuchsberg Family Foundation. I'm really proud to be working with this wonderful charity. This donation will help complete the production of the video using all the footage we took in England. We want to use the video to help raise awareness of Duchenne Muscular Dystrophy and the Lads. CureDuchenne's VP of Marketing Communication, Karen Harley, knew I was a musician and she's put me in touch with another musician (a former American Idol contestant) working on a cool project to raise money for CureDuchenne. I'm planning on contributing my part to that project this summer, more to come on that.
I've been spending the past couple of weeks working on improvements to the Thumper-LE (Lads Edition), which is the model I made specifically for the Lads and others with disabilities. The new version of this mic will use Bluetooth for the audio connection instead of USB. I've also been working hard on a new model called the Thumper-TC (Throat Communicator) which will add a couple unique modes of operation to what the Thumper-LE can do. I've got a call into my patent attorney to begin work on the patent application as well as filing a provisional patent for right now.
This new TC model will also allow me to do some cool things like push updates remotely to the mics wherever they are in the world and even push changes to a specific mic if customizations are needed. There will be a whole new website coming soon dedicated to these two assistive microphones that will go on sale to the general public in the coming months.