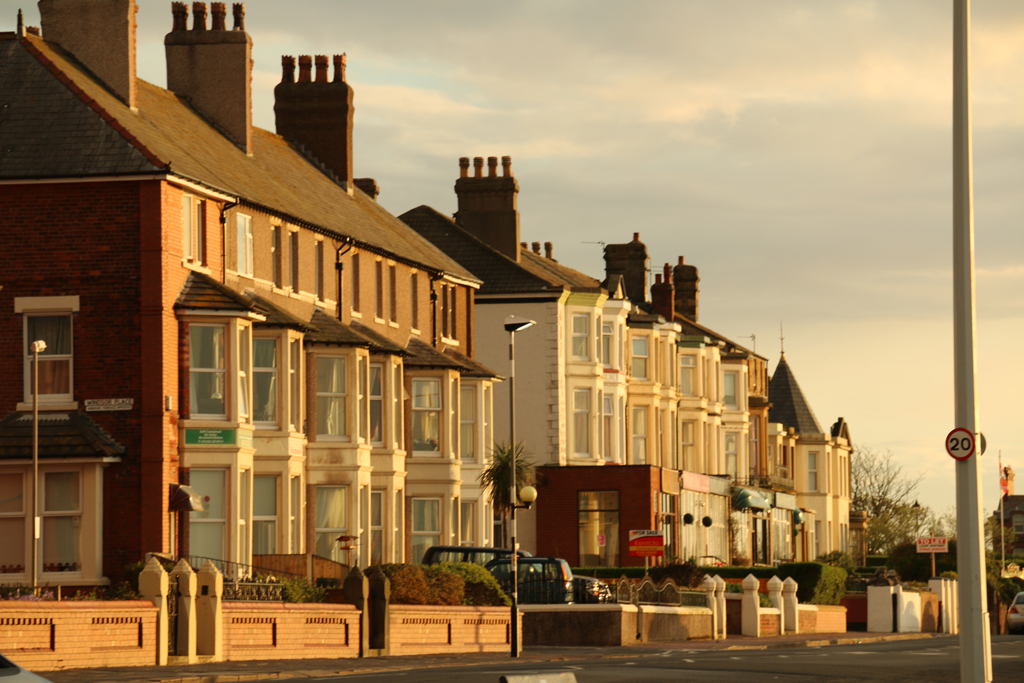 I'm back in the air, flying home to Chicago. Lucky for you all I ramble even more when I write on an airplane! Saturday was our last day visiting with the Lads and their family in Fleetwood, UK. We had gotten their microphones up and working for them the day before with moderate success after solving an array of technical issues. Now all we had to do was hang out with the Styles family and enjoy ourselves a bit.
Sam Nulton and I first had a bit of business to do, shooting some interview video we hadn't yet gotten to, in the hotel room. We had to be sure to put all the lights and equipment away before departing, since it looked a bit suspect the way we had everything set up.
We met up at the Lads' house after lunch and hung out for a while. We hadn't gotten much time to chat with their father Neigel earlier so it was nice to sit and talk with him and get to know him a bit better. He's a great man who reminded me a bit of my own father-in-law David.
The plan for the afternoon was to go bowling, grab a curry, and then go to this benefit event for the centre where the Lads go a few times a week and their brother Sam works (I believe). Sam Nulton, myself, Ben & Joe, Sam Styles, and two carers (Elmo and James) headed out for bowling in Preston, a 40 minute drive, but arrived to find out they wouldn't have any lanes free for some time. Change of plans. We headed to a pub nearby to grab some lunch instead. We did get our curry anyways, so everyone was happy. I'm a huge fan of curries, as are the Lads.
Throughout the time we were with the Lads in the UK, we met 4 of their carers: Lucy, Jill, Elmo, and James. Of course, their own brother Sam is basically one of their carers as well, as he's also a trained carer that happens to live with Ben & Joe. I have to say that all the carers working with the Lads were wonderful people. They were all more like friends to the boys than workers doing a job. It's pretty great to see the excellent relationships they've all developed.
At the pub, we learned how to play snooker and how the English football leagues are structured, while having a pint (or whiskey), some curry, and watching Manchester vs Norwich on the telly. This and the dinner the night before were probably my favorite parts of this whole trip. Just hanging out and chatting over food and drinks with the Lads and their family.
After eating, both of the Sams decided they wanted to try this crazy large ice cream dessert sold at the pub and both felt they could consume it faster than the other. The "Battle of the Sams" was on! They each ordered the massive dish and faced-off in an epic eating battle of US vs UK. We watched in amazement, and partly in disgust, as both Sams consumed more ice cream, cookie, chocolate sauce, and chocolate candy than any human should at one time. In the end, Sam Nulton of the United States bedecked in his shiny Betabrand "disco hoodie," polished off his monstrosity handily, leaving Sam Styles a broken shell of a man.
After we were done, we said our goodbyes and they were off to their benefit for the evening. I did not get to say a proper goodbye (or "until next time") with Diane and maybe that's for the best anyways. I'll just have to see her and the Lads again now, won't I? Pretty funny, Diane, innit? Diane is an amazingly strong woman, truly a selfless carer of others. Each day she even reminded me to take my Prilosec so my stomach wouldn't start to feel bad, like my own mother would. She had noticed me stop and take my medicine that first day and remembered. Small details like that are recognized naturally by her and that did not go unnoticed by me.
Sam Nulton and I headed back to Fleetwood to do a bit of shopping, packing, and have one last pint at The Mount near our hotel. We woke at 5am Sunday to finish the last bit of packing and get to Manchester Airport for our flights. When we got to our car parked on the street, we found that the people of Fleetwood loved us so much they had given us a gift of a brick from their town. Sadly, it had been delivered to us through one of the windows of our rental car in the early hours of the morning. Grrrrr. No worry, I had purchased the insurance on the rental (although there is a fun £100 deductible I'll have to figure out) and there was nothing in the car to steal. So the worst part of it was that it was very cold on our 1hr 15min drive back to the airport. Brrrrrrr…
Back to Chicago for me and to New York City for Sam. This was my first trip to visit the Lads, but will not be the last time I see them. Joe said they would Skype me again in a couple weeks after using the microphones some more and let me know how things were going. I'm planning on sending them new belt-packs with updates/modifications based on my observations in the UK and their further feedback. We also discussed the possibility of bringing them over to Chicago for a visit, maybe in a year. These microphones are going to help a lot of people and the Lads' involvement will be what makes them finally happen.
I plan to release a video about the project this Summer, so keep on the lookout for that. Once again, I would like to thank all of the contributors to this project, both financially and emotionally. None of this would gave been possible without you.
Huge thanks to Sam Nulton for coming along with me on this unusual trip. When I told him about the project a year ago, over drinks at the SingStrong Chicago after-party, he immediately jumped and said, "Let's go!" His knowledge of lighting, photography, and journalism were invaluable on this trip.
One last set of thanks goes to my own family. My wife Jill has been the most supportive partner I could ever imagine. My children have been asking questions about the Lads and what we're doing. I know I've basically forsaken them for the past weeks and now I'm home again. Luckily, I also have some goodies for them from the UK.