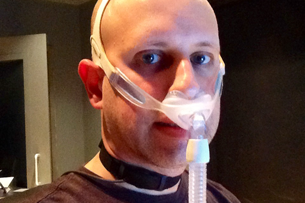 WE LEAVE IN TEN DAYS!
A couple weeks ago, I booked my flights from Chicago to Manchester for April 22-27 and for Sam from NYC to Manchester. I did go for the travel insurance, in case there's some emergency here.
TESTING NEW MASKS

Philips sent a couple of their newest "Nuance" masks for me to try out. They will also be sending these masks to the Lads, hopefully they'll get them before I get there. Obviously, the best thing is to not have to use a ventilator at all, but if you have to wear a mask most of the day…these Nuance masks are probably the sleekest, most comfortable masks you're going to find.
My contact at Philips UK has also passed on the info about the project to their international PR team in the US, so see if they'd be able/interested to contribute anything to the project. I haven't heard anything back yet though.
THROAT MIC PROBLEMS
For this project, I ordered my customized throat microphones from my manufacturer six weeks before the trip to the UK. Typically, it takes them about 2 weeks to build and ship the mics to me, so I figured that would give me about a month to work with them before giving them to the Lads. After waiting two weeks, I checked on the order and found it still had not gone through. After a couple more weeks of nagging, I finally got an answer out of the company and they told me they can no longer supply me with my customized mics that they had been supplying me for the past 8 years. WOMP WOMMMMP. This will be a bit of a problem for the Lads Project.
The manufacturer has assured me they will get me a suitable replacement early next week (only 1 week before I leave!!) but that's cutting it very close. As a back up, I have purchased some different types of mics that will work with my Thumper belt-pack DSP unit and we will experiment when I get to the UK. A throat microphone might not be the best solution for the Lads and this hiccup has shown me that we need to explore all the alternatives.
If you know anyone that would be interested/able to contribute anything to this project. Please send them to the funding page! We're VERY close!
—> freddie